After spending her 20s fronting Louis Theroux-style gonzo documentaries, South Australian filmmaker Madeleine Parry's career hit Hollywood when she helmed Hannah Gadsby's Emmy-winning 2018 Netflix special Nanette. Now it's time for round two.
"After doing work in documentaries where I was onscreen for the first five years of my career, I was really passionate about continuing to work behind the camera as a director," Parry says from semi-isolation somewhere in Victoria – where she has been with her partner since local borders snapped shut in March.
Parry made her name as both subject and filmmaker, with shorts like Murder Mouth and Meatwork leading to the 2015 ABC TV series Maddie Parry: Tough Jobs, which saw her embed herself in a string of complex workplaces, from an abortion clinic to logging operations in Tasmanian old growth forests.
The path from this vein of documentary filmmaking to stand-up comedy specials is not necessarily an obvious one, but it was this unconventional trajectory that put her in the box seat for her biggest gig yet.
"There was an eight-month period where I worked on this show Corey White's Roadmap To Paradise, and for me that was an opportunity to use my skills as a director to bring someone else's voice to the screen with as much clarity as possible. For me that was a bit of a transition, from having myself on screen and trying to be authentic to doing that for somebody else, and really using that director's brain."
It was on the set of Roadmap that Frank Bruzzese, Guesswork Television's head of production, came downstairs to speak to one of the show's producers about a challenging new project. As a live show Hannah Gadsby's Nanette had already carved a formidable international reputation as an inspired and incisive work, but now Bruzzese faced the daunting task of translating it to film.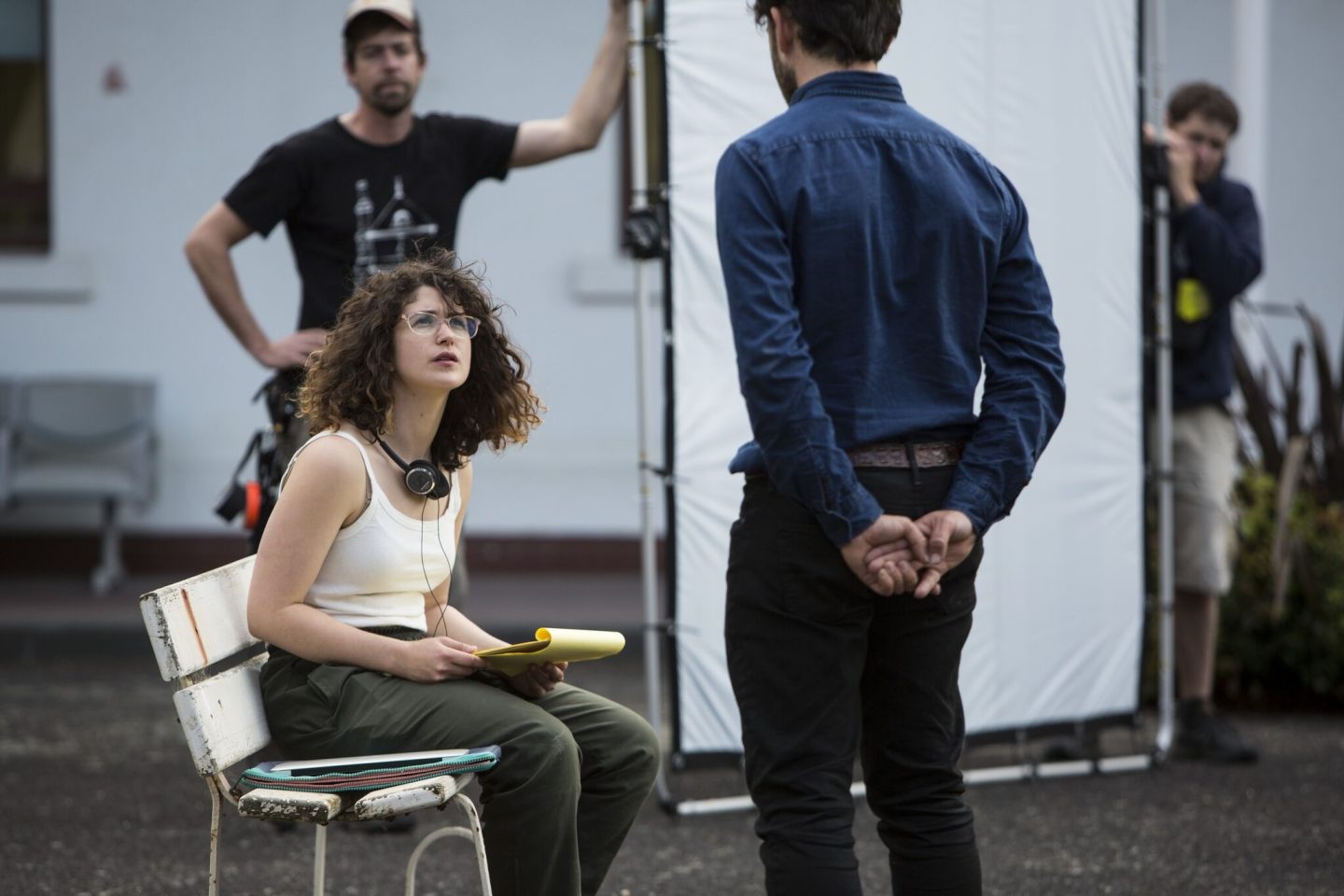 "He was saying, 'look, we have captured a million stand up specials, but we're capturing Nanette, and it's just so different'," she recalls. "I'd seen a really early version of the show at the Adelaide Fringe, which as I remember it was kind of a raw hour of talking without many laughs – it was a lot of pain. So I had an idea of what the show was in its earliest, roughest form, and I said could you focus on the space between Hannah and the audience; the shape of the in-between space. Then the next day he was like, 'hey would you like to direct Nanette?'"
Nanette saw Gadsby open up for an audience like never before, deconstructing her comedic craft one moment and sharing deeply traumatic experiences the next. When it came to filming the performance at the Sydney Opera House, Parry (alongside veteran comedy co-director Jon Olb) put all her previous experiences to use to translate the atmosphere and intensity of Gadsby's performance.
"Hannah had genuinely decided to quit comedy, so she was absolutely putting her all into it, with none of the caution that I think people self-consciously have because they're afraid of not getting hired for the next time. The only god she was serving was her truth."
Nanette's moments of meta-commentary drew attention to the seams of a stand up show, but there are moments where the viewer can't help but notice the artistry of the filmmaking, which works hand in glove with Gadsby's performance.
"There's a three- or four-minute closeup on her face, but we couldn't do that if she hadn't absolutely captivated the audience. There was just no reason to cut away from her. It's Hannah's show, and we could only capture what she created; my job was to capture as much of the power of her show as possible," she says.
The stakes were decidedly different for Gadsby's follow-up Douglas, released to Netflix on 26 May. What was conceived with the understanding it could be a career-killer had the opposite effect, with Nanette netting Gadsby an Emmy (out of two nominations), a Peabody and a tidal wave of critical acclaim. With an American production company now on board, Gadsby enlisted Parry once more to lead a notably women-led team in documenting a show first previewed in Adelaide back in March 2019. Parry travelled to Los Angeles to film Gadsby perform the show at the historic former United Artists Theatre ("It's a cross between The Dark Crystal and the Sistine Chapel," Parry says).
"The first time was 'how do we capture the power of Nanette?' This time around I found myself working on a completely different scale, which was a really great opportunity. What was super remarkable about the experience was she really pushed for a female presence – five of the six camera operators, four of the assistants and the director of photography [were women]. I think that's awesome and important, and it does really help when the talent, Hannah, pushes for that."
It's particularly appropriate for a show that, among other things, spends time unpicking the fact that for the last few hundred years we've lived in a world that has, almost without exception, been defined, named and labelled by men – with all the gendered biases and power structures that brings with it.
These structures hit home in Parry's next passion project, Year One, which she has been developing while travelling back and forth from the US. "It's about an immigrant grandmother who decides to enrol in Year One," she explains. "She's in her 80s, and has never learnt to read, and that act of moving outside the family role that she's been cast in – the carer, the mother – unsettles the family.
"It's a personal exploration of a woman's role, of feminism and family for me. It's very fun, very personal, and has involved conversations with my mum and auntie about that generation, and how they saw the world."
As a scripted drama inspired by her own family, the project presents another career left turn and a fresh set of challenges. "Documentary is like this treasure hunt, where you go out and explore and bring together all the pieces, but you're kind of protected by reality," she says. "You've got something to hide behind, whereas in fiction, you're very vulnerable.
"You don't get to hide behind the facts or go out searching," she says. "You have to find them within yourself."
Douglas is now streaming on Netflix
*This article was originally published on The Adelaide Review and has been posted with permission.